This week I'm supposed to blog about the best dish I make and add a recipe. Now, if you paid attention last week, you'll know I'm not a chef. So while I'd love to share a recipe for something I make, it'd be a fib because I don't cook well. I burn water.
I know. I do.
So, here's one of my favorite cookie recipes, courtesy of Nancy Fuller on FoodTv.com ~ Peanut Butter Blossoms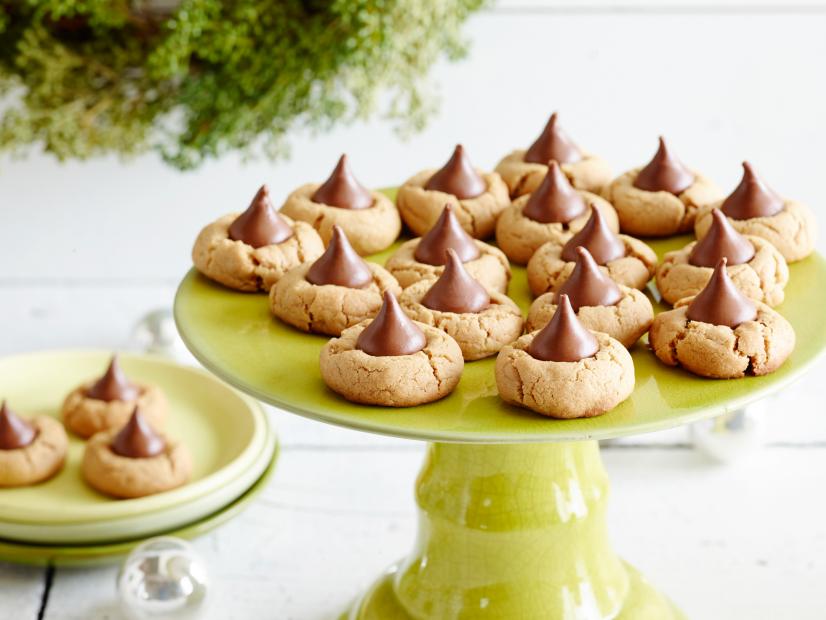 Level: Easy
Total: 1 hr 5 min
Prep: 15 min
Cook: 50 min
Yield: 4 to 5 dozen cookies
Ingredients
Nonstick cooking spray
2 3/4 cups all-purpose flour
1 1/4 teaspoons baking soda
1/2 teaspoon fine salt
1 cup smooth peanut butter (not natural)
12 tablespoons (1 1/2 sticks) unsalted butter, at room temperature
1/4 cup vegetable shortening
1 3/4 cups packed light brown sugar
2 large eggs
1 tablespoon vanilla extract
2 cups peanut butter chips
Your favorite jelly thinned with a splash of liqueur (optional)
48 to 60 chocolate kiss candies
Directions
Adjust the oven racks to the upper and lower thirds and preheat the oven to 375 degrees F. Coat 2 baking sheets with cooking spray
Combine the flour, baking soda and salt in a medium bowl. Set aside.
Beat the peanut butter, butter and shortening in a large bowl with an electric mixer on medium high until smooth, about 1 minute. Add the brown sugar and continue to beat until light and fluffy, about 4 minutes. Add the eggs and vanilla and continue to beat until incorporated. Add the flour mixture in two batches and beat on medium until incorporated. Fold in the peanut butter chips.
Scoop out level tablespoons of dough, roll into balls and space about 2 inches apart on the prepared baking sheets. (You will need to bake the cookies in batches; allow the baking sheets to cool in between batches.)
Bake until the bottoms and edges of the cookies are golden brown but the middles are still soft, about 10 minutes. (The cookies will bake a bit after they come out of the oven). Indent the warm cookies with the rounded bottom of a teaspoon. If using jelly, fill each indent with some jelly. Top each with a chocolate kiss candy.
Allow the cookies to cool on the baking sheet for a few minutes and then transfer to a rack to cool completely.
Cook's Note
Some people have allergies to peanuts, and if serving to guests, please make them aware of the inclusion of this peanut product.
What about you? What is your favorite holiday food? What are you good at making? I could use some tips.
While you're here, check out Soft Steel!
Soft Steel by Megan Slayer
Celestial Mates, Book 6
Contemporary Paranormal, Fantasy LGBTQ Romance
M/M, Anal Sex, Cross Dressing
Novella (21,000 words)
From Evernight Publishing
Cover Art by Jay Aheer
Celestial Mates, 6
Valermo Dax wants to be loved. He doesn't fit into societal molds and he's fine with that. If he can find a guy who adores him as-is, even better. Stripping isn't getting him noticed by the kind of guys he wants to date—until Corey walks into the club.
Corey Blumenthal knows who he wants to see at the club—Val. Ever since they shared a biology class four years ago, he's crushed on the sexy man sporting glitter and those sky-high heels. He finally winds up the courage to take Val home, but things don't go as planned. A curse, shouted in anger, turns their world upside down.
Can these two men find the strength, courage, and love they always knew they had in order to save each other? Or will the curse change them forever?
Be Warned: m/m sex
Available at Evernight Publishing: https://www.evernightpublishing.com/soft-steel-by-megan-slayer/
And wherever ebooks are sold:
https://books2read.com/u/3npQ8B
https://www.smashwords.com/books/view/986340?ref=draft2digital