White Hot and Fun…in Five Lines!
Release Parties @ TRS
For my last post of the evening, and yes, I'd like to thank you all for partying with us, I want to share a little bit from Show Me. Bondage, submission and some fun window play are all involved in this week's fast, fun, Five Sentence Friday, courtesy of Show Me. Enjoy!!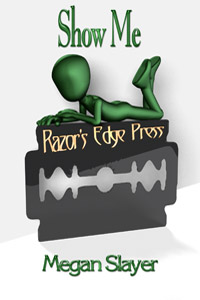 "You please me." Calen kissed her neck, the action whispery soft against her
pulse. "They can see you. They want you." He shifted his hips, rubbing the silk of his
suit jacket lapels along her spine and ass. His hands roamed her stomach and the swell
of her hips, not quite finding the apex of her thighs.